Mole Ploughing
---
MOLE PLOUGHING - TECHNIQUE
Mole ploughing is a method of installing small diameter PE pipes in rural areas quickly and with minimal disruption and environmental impact. Mole ploughing is not strictly a trenchless technology but creates a narrow temporary trench for installing small diameter mains and services. The process is included in this Guide the because it does not involve any of the usual activities of 'open cut' such as spoil removal, shoring, placement of bedding materials, etc. The technique is particularly suitable for sparsely populated rural areas where long pipelines with few connections are required. PE100 pipe can be laid at depths up to 2.0 metres.
Small, flat waters such as streams can be crossed using this technique and pipes can easily be installed in embankments. Using the technique to install pipes below ground water level has proved to be very economic and environmentally-friendly.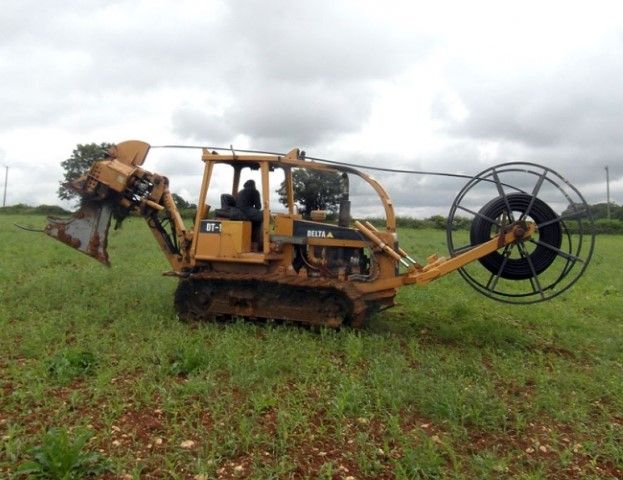 Image courtesy: P J Hirons Ltd.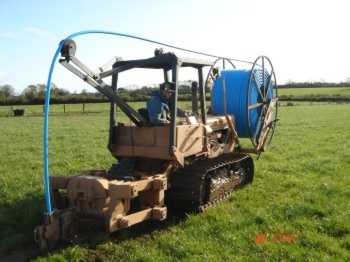 Image courtesy: Terra Services


Spider Plough up to DN250. Image courtesy: FRANK FÖCKERSPERGER GmbH

Rocket Plough up to DN355. Image courtesy: FRANK FÖCKERSPERGER GmbH

Direct from Coils up to DN90. Image courtesy: FRANK FÖCKERSPERGER GmbH
Mole or Cable Ploughs work best in easily displaceable soils that can be reused as fill. The mole plough pushes the spoils removed by the plough back into the hole as the machine feeds the PE100 pipe into the hole thus eliminating the need for backfill.


Laying slit after laying PE100 pipe (left) and after closure and restoration (right). Image courtesy: P J Hirons Ltd.
MOLE PLOUGHING - PE100 APPLICATIONS
Water mains.
Gas mains.
Pressure sewers.
New installation.
Off-line replacement
MOLE PLOUGHING - INSTALLATION PROCEDURE
An all-terrain traction unit pulls the plough with a cable winch, with uneven terrain levelled by universally adjustable extensions and hydraulically adjustable rubber tyres if a spider plough is used. Vibrating ploughs for smaller diameter pipes can be mounted directly on excavator arms. At the starting point of the bore path a launch pit is excavated and the plough share is placed in this pit at the required installation depth. When pulled by the winch, the plough share displaces the soil in the pipeline zone and clears any stones within the embedment area settling the trench bottom under its own weight, creating a hollow space for pipeline installation. By means of an automatic sanding cart attached to the plough, the hollow space can be filled with sand either below the pipe to act as bedding or above it as backfill, or both.
Then the pipe is installed on the bottom of the narrow trench at the desired depth free of any mechanical, tensile stress. The pipe plough installs PE pipes of diameters up to 355 mm. Diameters up to 90 mm can be installed direct from coils; larger diameters are laid on the ground along the line of the installation and picked up by the plough and installed into the narrow excavation. Several pipes, cables and warning tapes can be installed in one go. The soil closes over the narrow opening behind the plough and the surface can be finished by filling and compaction if necessary.
MOLE PLOUGHING - EQUIPMENT
The main equipment is a specially designed ploughshare that cuts the narrow trench, supports the sides and passes the PE100 pipe into the trench allowing the trench to close over it. This ploughshare may be attached to an excavator for short length, shallow installations in easy terrain. For longer installations and more difficult terrain the ploughshare is attached to a specially designed spider plough and winching unit. This enables consistent line and level of the pipe to be maintained in uneven terrain.
Excavator units to which the ploughshare is attached may be wheeled or tracked. Spider ploughs are wheeled with independent arms for each wheel. Tracked units may be more suitable for use in soft, wet conditions where wheeled units may be destructive to the soil.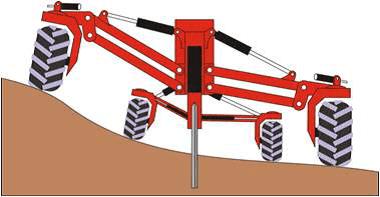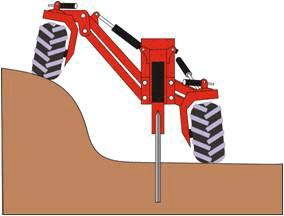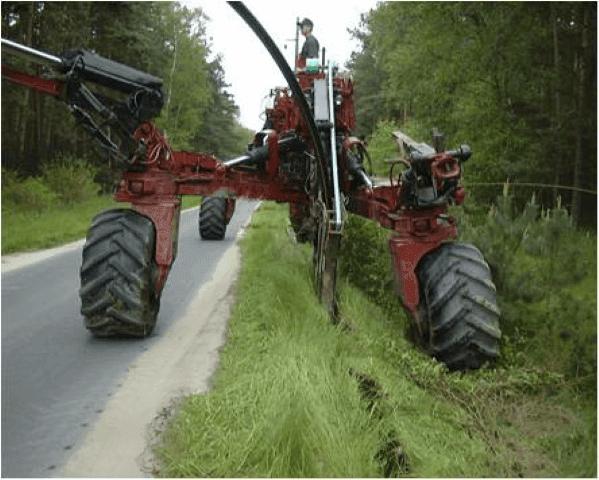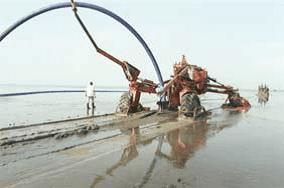 Image courtesy: FRANK FÖCKERSPERGER GmbH
MOLE PLOUGHING - PRACTICALITIES
Maximum installation depth is 2.0 metres. For diameters larger than DN90 which cannot be installed directly from coils it is necessary to lay out and fuse the pipe into a single length along the line of the installation. It is picked up by the plough and fed into the narrow excavation.
Mole ploughing can lay pipes at bend radius of 3.50 metres. Typical installation speed can be up to 5000 metres/day in ideal circumstances. Marker tape can be installed above the pipe during the installation if required.
Soil Types and their effects
Mole ploughing displaces soils so is best suited to granular soils: sands and gravels (German soil classification 2 – 5). It can also be used in soft to medium clays.
MOLE PLOUGHING - EXCAVATIONS
Small entry and exit pits are needed to the depth of the pipe invert and as narrow as is feasible to excavate. These are to enable start of the installation and also connection to other pipes at each end of the installation.
See also Excavations, pit sizes, Space and Access
MOLE PLOUGHING - DESIGN, SPECIFICATION & PLANNING
Design
Fluid design for capacity of new pipeline to determine diameter needed.
Select SDR based on operating pressure
Check bend radius during installation
Check soil type is suitable for the method.
Specification
Specify minimum allowable bend radius of pipe during installation
Specify end fittings and service connection details.
Planning
The terrain around the project area should not be built-up and should be free of larger obstacles. Prior to the installation the exact position of any adjacent pipes or cables must be established and they must be exposed at locations where they cross the line of the installation. Where such services have been exposed warning markers should be installed to allow sufficient time to stop the plough and to aid easy identification to the plough operator/ banksman. When crossing open areas such as arable farms, examination of the land drainage of the area must be undertaken to ensure that long lasting flooding is avoided.
Note: It is possible that if land drains are cut by this method the new trench will itself act as a land drain.
MOLE PLOUGHING - HEALTH, SAFETY & ENVIRONMENT
All personnel work at the surface except for at any entry pits which must be safely supported and have safe access. Certain machines use a winching truck to tow the plough itself. The winch cable is under strong tension (up to 80T, or 160T with sheaves) and this can cause a hazard to personnel if it breaks. Where the operation takes place with nearby public access, all exposed winch wire must be securely contained whilst under tension throughout the operation.
Environmental impact is minimal. Heavy plant is used on open ground and some reinstatement may be necessary. No waste is generated. No soil materials need to be imported or taken away. All excavated material at pits can be reused for filling. No material is removed from the line installation.
MOLE PLOUGHING - STANDARDS & CODES OF PRACTICE
See Standards and Codes of Practice
MOLE PLOUGHING - COMMON/SECONDARY MODULES
MOLE PLOUGHING - USEFUL LINKS
Frank Föckersperger GmbH. Supplier of pipe and cable ploughs.
Related keywords : mole pipe drainage, cable plough machine, definition of ploughing, mole plow, water pipe laying mole, plough design, mole plough, trench mole, mole pipe laying, ploughing techniques, mole ploughing, cable plough, small ploughing machine, mole plough water pipe, mole ploughs, mole pipe, mole plough design, pipe mole, manual ploughing
Last update Tuesday 29 May 2018
---