BOROUGE
---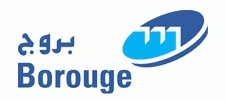 Borouge is a leading provider of innovative, value creating plastics solutions. A joint venture between the Abu Dhabi National Oil Company (ADNOC), one of the world's major oil and gas companies, and Austria based Borealis, a leading provider of chemical and innovative plastics solutions; Borouge is a groundbreaking international partnership at the forefront of the next generation of plastics innovation.
With its base in the United Arab Emirates and Marketing & Sales head office in Singapore, Borouge employs approximately 1,700 people representing more than 40 nationalities and serving customers in more than 50 countries across the Middle East, Asia-Pacific, Indian sub-continent and Africa.
Building on Borealis' unique Borstar® technology and experience in polyolefins for more than 50 years, Borouge provides innovative, value creating plastics solutions for infrastructure (pipe systems, and power and communication cables), automotives and advanced packaging.
In 2010 Borouge tripled its annual production capacity in Abu Dhabi to 2 million tonnes and together with Borealis has an annual manufacturing capacity of over 5.4 million tonnes of polyethylene and polypropylene. The current Borouge 3 expansion project will be completed at the end of 2013 resulting in an additional capacity of 2.5 million tonnes per year (t/y) being fully operational by mid-2014. Borouge is also investing in plants and logistics hubs in Asia and an Innovation Centre in Abu Dhabi. Focused on our company mission, Value Creation through Innovation, we ensure that our customers throughout the value chain, around the world, can always rely on superior products and security of supply.
Borouge is committed to the principles of Responsible Care® and together with Borealis proactively contributes towards addressing the world's water and sanitation challenges through their Water for the World™ initiative.
more info : www.borouge.com
Last update Wednesday 03 April 2013
---