IRPC
---
IRPC Public Company Limited is a pioneer in Southeast Asia integrated petrochemical industry with a fully in-house refinery and petrochemical business, which began as a manufacturer and distributor of Plastic Resins since 1982.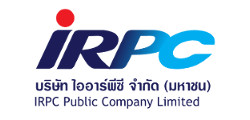 The factory is located in the industrial zone of Rayong province, Thailand, under the company's administration which includes public utilities that fully supports all industrial operations including a deep sea port, tank farm, and a power generation facility.
IRPC's upstream petrochemical product line includes olefins and aromatics, with capacities of 828 and 367 KTA respectively, both serves as downstream petrochemical feedstock, and sold under the POLIMAXX brand to various domestic and international converters and distributors. While the Polyolefin business consist of HDPE and PP (615 KTA combined capacities) and styrenics consisting of ABS, SAN, EPS, and PS (310 KTA combined capacities).
IRPC adheres to good corporate governance principles, transparence business practice, and is able to provide ample and relevant information that strengthen the confidence of investors, stockholders, business partners, and all parties involved. IRPC also strives to develop social and environmentally sensitive industries, while supports sustainable development in the surrounding communities.
more info : www.irpc.co.th
Last update Tuesday 05 May 2015
---