Testing schedule
---
Three different testing institutes
All procedures and administration before and after testing are handled by Kiwa, who is heading the technical committee. The tests are performed at 3 different testing institutes on behalf of Kiwa.
The PE 100 product manufacturers send 30 (15 for testing, 15 back-up) extruded 110 mm, SDR 11 pipes to Kiwa. Each testing institute performs a different type of testing. Kiwa forwards PIN-coded samples to those institutes and collects the results.
This testing schedule, which is repeated every twelve month, builds the base for the "PE100+ Quality Materials", which is issued by the Association.
This list shows those products, which successfully met the PE100+ Associations requirements and has passed 2 test rounds.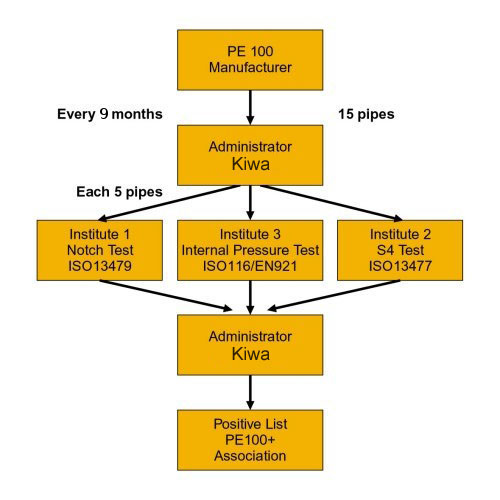 Last update Monday 16 May 2022
---