PE100+ at UK No-Dig Live Mini Masterclass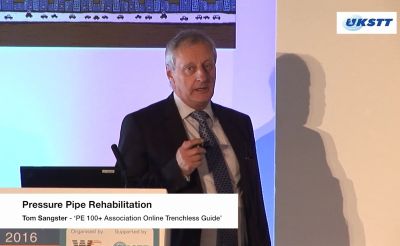 The 2016 No-Dig Live exhibition organised by the UK Society for Trenchless technology (UKSTT) took place in Peterborough on 20-22 September. This biennial exhibition includes an outdoor area where many technologies were demonstrated to the more than 300 delegates from across Europe. Alongside the exhibition was a series of Mini Masterclasses on specific aspects of trenchless technology, one of which covered pressure pipe rehabilitation.
Tom Sangster, a member of the PE100+ Association Advisory Board and a UKSTT Council member, organised this mini masterclass which, over 2 hours, featured four experienced and knowledgeable speakers on rehabilitation of pressure pipes using sprayed resin linings, cured in place (CIPP) linings and polyethylene lining. Tom presented the PE100+ Association Online Guide to the use of PE100 in trenchless technologies as well as describing the types and properties of PE100 pipe to the audience of approx. 40 engineers from the UK gas and water industries. A lively question and answer session closed the masterclass.
---